Land Use
Land use in the catchment is predominantly agricultural with the exception of steeper parts, which are dominated by a mixture of native eucalypt forests and exotic forestry plantations. Agricultural land use varies greatly in intensity and includes pastoral, more intensive grazing, broad-acre cropping, and intensive agriculture in irrigation areas along the mid-lower Murrumbidgee. Landuse map gives an overview of the general land use classification in the Murrumbidgee catchment, showing that grazing is predominant in the west and particularly scattered in the east, whereas dryland cropping dominates the mid Murrumbidgee catchment. Irrigation sites are mainly located in the south of Griffith. Land use data have been sourced by the Bureau of Rural Sciences, Australia.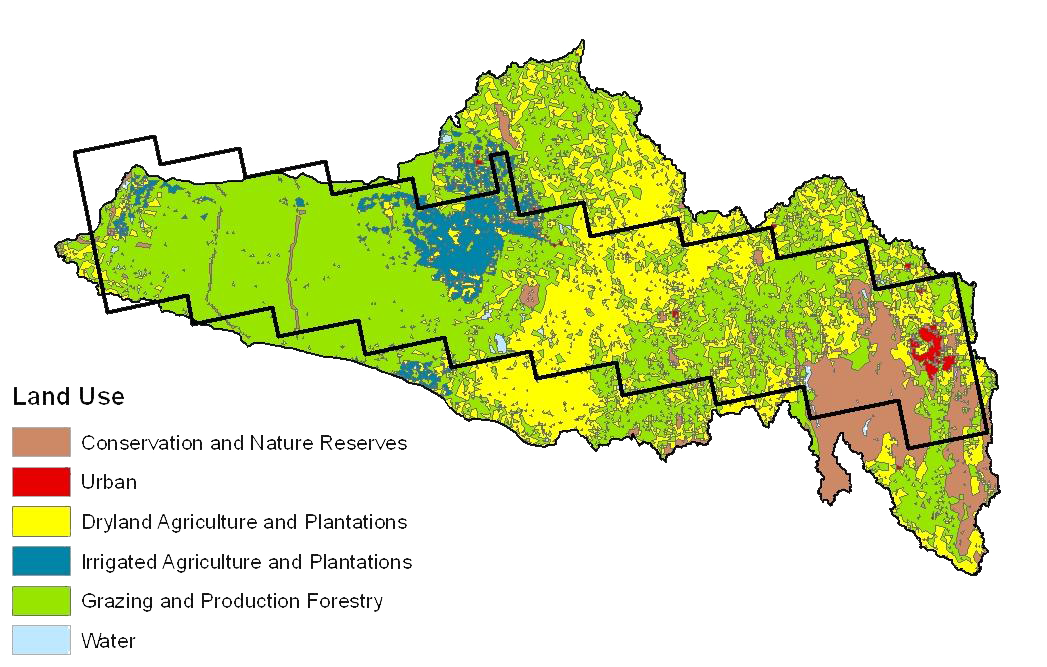 Source: Bureau of Rural Sciences, Australia
The areal coverage of the major land use types is listed in the table below. The catchment is comprised of about 52% pasture, followed by about 21% arable and 18% silvicultural land use. Other land use types represent less than 9% of the total catchment area.
| | | |
| --- | --- | --- |
| Land Use Type | Area (km²) | Area (%) |
| closed forest | 1,310 | 1.6 |
| open forest | 13,381 | 16.4 |
| plantation | 1,148 | 1.4 |
| woodland | 4,537 | 5.6 |
| woody pasture | 1,107 | 1.4 |
| shrubby pasture | 5,534 | 6.8 |
| pasture | 34,406 | 42.2 |
| irrigated pasture | 1,402 | 1.7 |
| winter crops | 13,704 | 16.8 |
| summer/fodder crops | 2,260 | 2.8 |
| irrigated crops | 1,141 | 1.4 |
| cotton | 2 | <0.1 |
| horticulture | 330 | 0.4 |
| irrigated horticulture | 158 | 0.2 |
| bare ground | 54 | 0.1 |
| intensive use | 312 | 0.4 |
| water | 819 | 1.0 |