Advanced Microwave Scanning Radiometer - Earth observing System (AMSR-E)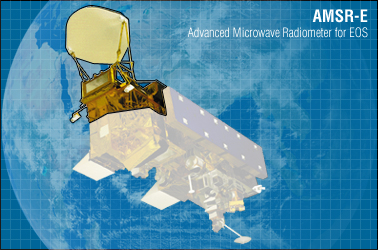 Source:
http://aqua.nasa.gov
, accessed on 28th, Apr. 2010
The AMSR-E sensor is a passive microwave radiometer operating at 6 frequencies ranging from 6.925 to 89.0GHz. Both horizontally and vertically polarized radiation are measured at each frequency with an incidence angle of 55°. The ground spatial resolution at nadir is 75 × 45km for the 6.925GHz channel (C-band). The AMSR-E is one of six sensors onboard Aqua, which was launched in 2002. It has a 1:30am/pm equator crossing orbit with 1-2 day repeat coverage. Several surface soil moisture products are available globally. AMSR-E brightness temperature data can be downloaded free of charge from the NSIDC website or other Distributed Active Archive Center's (DAAC's). While the current AMSR-E sensor continues to outlive its expected lifetime, a follow-on mission is planned by JAXA for the near future. The features of AMSR-E are summarized below. AMSR-E data can be downloaded from NASA.
Mission
AMSR-E
Sensor
Advanced Microwave Scanning Radiometer - Earth observing System (AMSR-E)
Spacecraft
Aqua
Launch date
4th, May 2002
Design life
6 years
Orbit
Sun-synchronous, near-polar orbit. Cross Equator at 1:30pm., acsending node.
Spacecraft operations control centre
National Space Development Agency of Japan (NASDA)
Center frequency (GHz)
6.925
10.65
18.7
23.8
36.5
89.0
Band width (MHz)
350
100
200
400
1000
3000
Polarisation
H & V
Incidence angle (°)
55
Swath (km)
1445
Spatial resolution (km)
75 × 43
51 × 29
27 × 16
32 × 18
14 × 8
6 × 4
Radiometric resolution (K)
0.3
0.6
0.6
0.6
0.6
1.1
Temporal resolution
~3 days at the equator and more frequently at higher latitudes
AMSR-E overpass time
AMSR-E coverage for the Murrumbidgee Catchment during the first AACES campaign have been determined from a Fortran program based on NORAD data for 6th, Nov. 2009, and are summarized in the table below. Date and time are in UTC. Aircraft flights were assumed to be conducted at 7:45 for descending overpass and 20:35 for ascending overpass.
| | | | |
| --- | --- | --- | --- |
| | : Transect flight within 6 hours | | : Patch flight within 6 hours |
| ● | : Fully covered | ○ | : Partially covered |
| | | | | | | | | | | | | | |
| --- | --- | --- | --- | --- | --- | --- | --- | --- | --- | --- | --- | --- | --- |
| 2010/1/18 | 4:41:39 | 187 | | ● | ● | ● | ● | ● | ● | ○ | | | |
| 2010/1/18 | 15:43:27 | 224 | | ● | ● | ● | ● | ● | ● | ● | ● | ● | ● |
| 2010/1/19 | 3:46:04 | 209 | | | ○ | ● | ● | ● | ● | ● | ● | ● | ● |
| 2010/1/19 | 14:49:05 | 155 | T00 | | | | | | | ○ | ○ | ● | ● |
| 2010/1/20 | 4:29:04 | 227 | | ● | ● | ● | ● | ● | ● | ● | ● | ● | ● |
| 2010/1/20 | 15:31:08 | 229 | | ● | ● | ● | ● | ● | ● | ● | ● | ● | ● |
| 2010/1/21 | 3:34:20 | 143 | | | | | | | | | ○ | ● | ● |
| 2010/1/22 | 4:16:32 | 246 | | ● | ● | ● | ● | ● | ● | ● | ● | ● | ● |
| 2010/1/22 | 15:18:49 | 231 | | ● | ● | ● | ● | ● | ● | ● | ● | ● | ● |
| 2010/1/23 | 16:02:17 | 148 | | ● | ● | ○ | ○ | | | | | | |
| 2010/1/24 | 4:04:07 | 243 | | ● | ● | ● | ● | ● | ● | ● | ● | ● | ● |
| 2010/1/24 | 15:06:37 | 225 | P02 | ● | ● | ● | ● | ● | ● | ● | ● | ● | ● |
| 2010/1/25 | 4:47:52 | 151 | | ● | ● | ● | ○ | | | | | | |
| 2010/1/25 | 15:49:31 | 210 | | ● | ● | ● | ● | ● | ● | ● | ○ | ○ | |
| 2010/1/26 | 3:51:55 | 224 | | ● | ● | ● | ● | ● | ● | ● | ● | ● | ● |
| 2010/1/26 | 14:54:42 | 189 | | | | | ○ | ○ | ● | ● | ● | ● | ● |
| 2010/1/27 | 4:35:10 | 210 | | ● | ● | ● | ● | ● | ● | ● | ● | ○ | |
| 2010/1/27 | 15:37:05 | 230 | P03 | ● | ● | ● | ● | ● | ● | ● | ● | ● | ● |
| 2010/1/28 | 3:39:57 | 185 | | | | | | ○ | ● | ● | ● | ● | ● |
| 2010/1/28 | 14:43:19 | 98 | | | | | | | | | | ○ | ○ |
| 2010/1/29 | 4:22:38 | 237 | | ● | ● | ● | ● | ● | ● | ● | ● | ● | ● |
| 2010/1/29 | 15:24:48 | 230 | P04 | ● | ● | ● | ● | ● | ● | ● | ● | ● | ● |
| 2010/1/30 | 3:28:45 | 48 | | | | | | | | | | | ○ |
| 2010/1/30 | 16:08:52 | 65 | | ○ | | | | | | | | | |
| 2010/1/31 | 4:10:07 | 248 | | ● | ● | ● | ● | ● | ● | ● | ● | ● | ● |
| 2010/1/31 | 15:12:31 | 230 | | ● | ● | ● | ● | ● | ● | ● | ● | ● | ● |
| 2010/2/1 | 4:54:23 | 75 | | ○ | | | | | | | | | |
| 2010/2/1 | 15:55:39 | 187 | T01 | ● | ● | ● | ● | ● | ○ | | | | |
| 2010/2/2 | 3:57:49 | 235 | | ● | ● | ● | ● | ● | ● | ● | ● | ● | ● |
| 2010/2/2 | 15:00:26 | 212 | | | ○ | ● | ● | ● | ● | ● | ● | ● | ● |
| 2010/2/3 | 4:41:18 | 187 | | ● | ● | ● | ● | ● | ● | ○ | | | |
| 2010/2/3 | 15:43:05 | 224 | | ● | ● | ● | ● | ● | ● | ● | ● | ● | ● |
| 2010/2/4 | 3:45:43 | 209 | | | ○ | ● | ● | ● | ● | ● | ● | ● | ● |
| 2010/2/4 | 14:48:43 | 156 | | | | | | | | ○ | ● | ● | ● |
| 2010/2/5 | 4:28:43 | 226 | | ● | ● | ● | ● | ● | ● | ● | ● | ● | ● |
| 2010/2/5 | 15:30:46 | 230 | | ● | ● | ● | ● | ● | ● | ● | ● | ● | ● |
| 2010/2/6 | 3:33:57 | 146 | | | | | | | | | ○ | ● | ● |
| 2010/2/7 | 4:16:11 | 245 | | ● | ● | ● | ● | ● | ● | ● | ● | ● | ● |
| 2010/2/7 | 15:18:28 | 231 | | ● | ● | ● | ● | ● | ● | ● | ● | ● | ● |
| 2010/2/8 | 16:01:56 | 146 | | ● | ● | ○ | ○ | | | | | | |
| 2010/2/9 | 4:03:46 | 243 | | ● | ● | ● | ● | ● | ● | ● | ● | ● | ● |
| 2010/2/9 | 15:06:16 | 224 | P07 | ● | ● | ● | ● | ● | ● | ● | ● | ● | ● |
| 2010/2/10 | 4:47:32 | 149 | | ● | ● | ● | ○ | | | | | | |
| 2010/2/10 | 15:49:10 | 209 | | ● | ● | ● | ● | ● | ● | ● | ○ | ○ | |
| 2010/2/11 | 3:51:33 | 225 | | ● | ● | ● | ● | ● | ● | ● | ● | ● | ● |
| 2010/2/11 | 14:54:19 | 191 | P06 | | | | ○ | ○ | ● | ● | ● | ● | ● |
| 2010/2/12 | 4:34:49 | 210 | | ● | ● | ● | ● | ● | ● | ● | ● | ○ | |
| 2010/2/12 | 15:36:44 | 229 | | ● | ● | ● | ● | ● | ● | ● | ● | ● | ● |
| 2010/2/13 | 3:39:35 | 186 | | | | | | ○ | ● | ● | ● | ● | ● |
| 2010/2/13 | 14:42:56 | 100 | | | | | | | | | | ○ | ○ |
| 2010/2/14 | 4:22:17 | 237 | | ● | ● | ● | ● | ● | ● | ● | ● | ● | ● |
| 2010/2/14 | 15:24:26 | 230 | P08 | ● | ● | ● | ● | ● | ● | ● | ● | ● | ● |
| 2010/2/15 | 3:28:20 | 56 | | | | | | | | | | | ○ |
| 2010/2/15 | 16:08:32 | 61 | | ○ | | | | | | | | | |
| 2010/2/16 | 4:09:46 | 248 | | ● | ● | ● | ● | ● | ● | ● | ● | ● | ● |
| 2010/2/16 | 15:12:09 | 230 | | ● | ● | ● | ● | ● | ● | ● | ● | ● | ● |
| 2010/2/17 | 4:54:04 | 70 | | ○ | | | | | | | | | |
| 2010/2/17 | 15:55:18 | 185 | P09 | ● | ● | ● | ● | ● | ○ | | | | |
| 2010/2/18 | 3:57:28 | 234 | P10 | ● | ● | ● | ● | ● | ● | ● | ● | ● | ● |
| 2010/2/18 | 15:00:04 | 212 | | | ○ | ● | ● | ● | ● | ● | ● | ● | ● |
| 2010/2/19 | 4:40:57 | 186 | | ● | ● | ● | ● | ● | ● | ○ | | | |
| 2010/2/19 | 15:42:44 | 223 | T02 | ● | ● | ● | ● | ● | ● | ● | ● | ● | ● |
| 2010/2/20 | 3:45:21 | 210 | | | ○ | ● | ● | ● | ● | ● | ● | ● | ● |
| 2010/2/20 | 14:48:20 | 158 | | | | | | | | ○ | ● | ● | ● |
| 2010/2/21 | 4:28:22 | 226 | | ● | ● | ● | ● | ● | ● | ● | ● | ● | ● |
| 2010/2/21 | 15:30:24 | 230 | | ● | ● | ● | ● | ● | ● | ● | ● | ● | ● |