Advanced Spaceborne Thermal Emission and Reflection Radiometer (ASTER)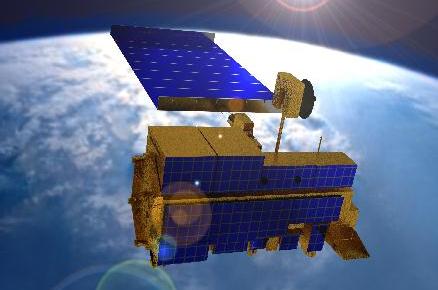 Source:
http://terra.nasa.gov
, access on 28th, Apr. 2010
ASTER provides high resolution visible (15m), near infrared (30m) and thermal infrared (90m) data on request. ASTER is onboard Terra and has a swath width of about 60km. ASTER is being used to obtain detailed maps of land surface temperature, reflectance and elevation. An order for ASTER data has been placed by an ASTER science team member to obtain data for mid January to end of February 2010. ASTER coverage for the Murrumbidgee Catchment is summarised below. ASTER data can be downloaded from NASA.
Mission
ASTER
Sensor
Visible and Near Infrared (VNIR), the Shortwave Infrared (SWIR), and the Thermal Infrared (TIR) subsystems.
Spacecraft
Terra
Launch date
18th, Dec. 1999
Design life (year)
5
Orbit
Near-polar orbit. Cross the equator at 10:30am (descending node).
Spacecraft Operations Control Centre
NASA
Channel and wavelength (micrometers)
VNIR (Band 1~3)
0.52 ~ 0.86
SWIR (Band 4~9)
1.600 ~ 2.430
TIR (Band 10~14)
8.125 ~ 11.65
Incidence angle (&deg)
0
Swath (km)
60
60
60
Spatial resolution (m)
15
30
90
Temporal resolution (day)
1~2
ASTER overpass time
ASTER coverage for the Murrumbidgee Catchment during the first AACES campaign have been determined from a Fortran program based on NORAD data for 6th, Nov. 2009, and are summarized in the table below. Date and time are in UTC. Aircraft flights were assumed to be conducted at 7:45 for descending overpass and 20:35 for ascending overpass.
| | | | |
| --- | --- | --- | --- |
| | : Transect flight within 6 hours | | : Patch flight within 6 hours |
| ● | : Fully covered | ○ | : Partially covered |
| | | | | | | | | | | | | | |
| --- | --- | --- | --- | --- | --- | --- | --- | --- | --- | --- | --- | --- | --- |
| 2010/1/18 | 0:25:27 | 26 | | | ○ | ○ | ○ | | | | | | |
| 2010/1/19 | 13:11:01 | 27 | | | | ○ | ○ | | | | | | |
| 2010/1/20 | 0:13:09 | 26 | T00 | | | | | | | ○ | ○ | ○ | |
| 2010/1/21 | 12:58:31 | 26 | | | | | | | | | ○ | ○ | |
| 2010/1/25 | 0:31:26 | 21 | P02 | ○ | | | | | | | | | |
| 2010/1/26 | 13:17:06 | 23 | | ○ | | | | | | | | | |
| 2010/1/27 | 0:19:07 | 24 | | | | | | ○ | ○ | | | | |
| 2010/1/28 | 13:04:33 | 27 | | | | | | ○ | ● | ○ | | | |
| 2010/1/29 | 0:06:51 | 22 | | | | | | | | | | | ○ |
| 2010/2/3 | 0:25:02 | 25 | | | ○ | ○ | ○ | | | | | | |
| 2010/2/4 | 13:10:36 | 26 | | | | ○ | ○ | | | | | | |
| 2010/2/5 | 0:12:43 | 26 | | | | | | | | ○ | ○ | ○ | |
| 2010/2/6 | 12:58:05 | 26 | | | | | | | | | ○ | ○ | |
| 2010/2/10 | 0:30:58 | 22 | P07 | ○ | | | | | | | | | |
| 2010/2/11 | 13:16:38 | 24 | | ○ | | | | | | | | | |
| 2010/2/12 | 0:18:39 | 24 | P06 | | | | | ○ | ○ | ○ | | | |
| 2010/2/13 | 13:04:05 | 26 | | | | | | ○ | ○ | ○ | | | |
| 2010/2/14 | 0:06:22 | 23 | | | | | | | | | | | ○ |
| 2010/2/19 | 0:24:32 | 25 | | | ○ | ○ | ○ | | | | | | |
| 2010/2/20 | 13:10:05 | 27 | | | | ○ | ○ | | | | | | |
| 2010/2/21 | 0:12:13 | 25 | | | | | | | | ○ | ○ | ○ | |