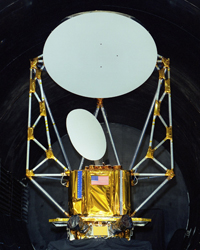 Source:
http://www.cpi.com
, accessed on 28th, Apr. 2010
WindSat
WindSat is a multi-frequency polarimetric microwave radiometer with similar frequencies to the AMSR-E sensor, with the addition of full polarisation for 10.7, 18.7 and 37.0GHz channels and the lack of an 89.0GHz channel. Developed by the Naval Research Laboratory, it is one of the two primary instruments on the Coriolis satellite launched on 6th January 2003. WindSat is continuing to outlive its three year design life, with data free of charge to scientists from here. WindSat data can be downloaded from NRL.
Sensor
Polarimetric microwave radiometer
Spacecraft
Coriolis
Launch date
6th, Jan. 2006
Design life
3 years
Orbit
Sun-synchronous orbit, at an altitude of 840km.
Space operations control centre
U.S. Naval Research Laboratory
Center frequency (GHz)
6.8
10.7
18.7
23.8
37.0
Band Width (MHz)
125
300
750
500
2000
Polarisation
V, H
V, H, ±45, L, R
V, H, ±45, L, R
V, H
V, H, ±45, L, R
Incidence angle
53.5
49.9
55.3
53.0
53.0
Swath
1025km, ~1000km in forward-looking, ~350km in aft-looking.
Spatial resolution (km)
40 × 60
25 × 38
16 × 27
12 × 20
8 × 13
Temporal resolution
~8 days
WindSat overpass time
WindSat coverage for the Murrumbidgee Catchment during the AACES-2 campaign has been calculated by a Fortran program based on NORAD data for 29th, Aug. 2010, and is summarized in the table below. Date and time are in UTC. Aircraft flights were assumed to be conducted at 7:45 for descending overpass and 20:35 for ascending overpass.
| | | | |
| --- | --- | --- | --- |
| | : Transect flight within 6 hours | | : Patch flight within 6 hours |
| ● | : Fully covered | ○ | : Partially covered |
| | | | | | | | | | | | | | |
| --- | --- | --- | --- | --- | --- | --- | --- | --- | --- | --- | --- | --- | --- |
| 2010/09/08 | 4:34:47 | 212 | | ● | ● | ● | ● | ● | ● | ● | ● | ● | ○ |
| 2010/09/08 | 15:36:43 | 229 | | ● | ● | ● | ● | ● | ● | ● | ● | ● | ● |
| 2010/09/09 | 3:39:37 | 180 | | | | | | | ○ | ● | ● | ● | ● |
| 2010/09/09 | 14:43:04 | 85 | | | | | | | | | | ○ | ○ |
| 2010/09/10 | 4:22:15 | 239 | | ● | ● | ● | ● | ● | ● | ● | ● | ● | ● |
| 2010/09/10 | 15:24:26 | 230 | T01 | ● | ● | ● | ● | ● | ● | ● | ● | ● | ● |
| 2010/09/11 | 16:08:22 | 83 | | ○ | ○ | | | | | | | | |
| 2010/09/12 | 4:09:46 | 247 | | ● | ● | ● | ● | ● | ● | ● | ● | ● | ● |
| 2010/09/12 | 15:12:11 | 229 | P04 | ● | ● | ● | ● | ● | ● | ● | ● | ● | ● |
| 2010/09/13 | 4:53:55 | 92 | | ○ | ○ | | | | | | | | |
| 2010/09/13 | 15:55:17 | 190 | | ● | ● | ● | ● | ● | ○ | ○ | | | |
| 2010/09/14 | 3:57:29 | 233 | | ● | ● | ● | ● | ● | ● | ● | ● | ● | ● |
| 2010/09/14 | 15:00:07 | 209 | | | ○ | ○ | ● | ● | ● | ● | ● | ● | ● |
| 2010/09/15 | 4:40:56 | 191 | | ● | ● | ● | ● | ● | ● | ○ | | | |
| 2010/09/15 | 15:42:45 | 224 | P05 | ● | ● | ● | ● | ● | ● | ● | ● | ● | ● |
| 2010/09/16 | 3:45:24 | 206 | | | | ○ | ● | ● | ● | ● | ● | ● | ● |
| 2010/09/16 | 14:48:27 | 149 | | | | | | | | ○ | ○ | ● | ● |
| 2010/09/17 | 4:28:23 | 227 | | ● | ● | ● | ● | ● | ● | ● | ● | ● | ● |
| 2010/09/17 | 15:30:26 | 230 | | ● | ● | ● | ● | ● | ● | ● | ● | ● | ● |
| 2010/09/18 | 3:33:41 | 138 | | | | | | | | | ○ | ● | ● |
| 2010/09/19 | 4:15:51 | 246 | | ● | ● | ● | ● | ● | ● | ● | ● | ● | ● |
| 2010/09/19 | 15:18:08 | 231 | | ● | ● | ● | ● | ● | ● | ● | ● | ● | ● |
| 2010/09/20 | 16:01:33 | 154 | P07 | ● | ● | ● | ○ | | | | | | |
| 2010/09/21 | 4:03:27 | 242 | | ● | ● | ● | ● | ● | ● | ● | ● | ● | ● |
| 2010/09/21 | 15:05:57 | 224 | P08 | ● | ● | ● | ● | ● | ● | ● | ● | ● | ● |
| 2010/09/22 | 4:47:10 | 155 | | ● | ● | ● | ○ | | | | | | |
| 2010/09/22 | 15:48:50 | 211 | | ● | ● | ● | ● | ● | ● | ● | ● | ○ | |
| 2010/09/23 | 3:51:15 | 223 | | ● | ● | ● | ● | ● | ● | ● | ● | ● | ● |
| 2010/09/23 | 14:54:03 | 187 | T02 | | | | | ○ | ● | ● | ● | ● | ● |
| 2010/09/24 | 4:34:29 | 212 | | ● | ● | ● | ● | ● | ● | ● | ● | ● | ○ |
| 2010/09/24 | 15:36:25 | 229 | | ● | ● | ● | ● | ● | ● | ● | ● | ● | ● |
| 2010/09/25 | 3:39:19 | 181 | | | | | | ○ | ● | ● | ● | ● | ● |
| 2010/09/25 | 14:42:44 | 89 | | | | | | | | | | ○ | ○ |
| 2010/09/26 | 4:21:57 | 238 | | ● | ● | ● | ● | ● | ● | ● | ● | ● | ● |
| 2010/09/26 | 15:24:08 | 230 | | ● | ● | ● | ● | ● | ● | ● | ● | ● | ● |